Our Moving Services
We make your house into a home.
Get an Estimate
Book your move online with one of our friendly staff! 
Plan your Move
We'll figure out times and volumes to be moved and you'll get a quote on the spot.
Schedule Your Move
 We always deliver the best service possible on the time. 

Long Distance Moves
We have built our reputation in Canada as one of the leading long-distance moving companies by providing our customers with the best service.

Local Moves
As a reputable company, we provide quick and economical local moving services for the Greater Vancouver Area and the Fraser Valley Region. We have an affordable hourly rate for all size local moves. 

Cross-Border Moves
Canada and United States 
Homeland has a professional team, the correct vehicles and knowledge to handle and transport. 

Packaging & Unpacking
Homeland team are committed to flexibility and offering customized service solutions. We can pack all of your belongings or just fragile items.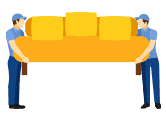 OFFICE Moves
Whether you're moving floor-to-floor, building-to-building, or city-to-city, you choose the option that best fits your needs and Homeland team will take care of the rest.

Premium Service
Extra care moving your precious collection, antiques, and furniture to your new home. Homeland team is committed to making your move as stress-free as possible.